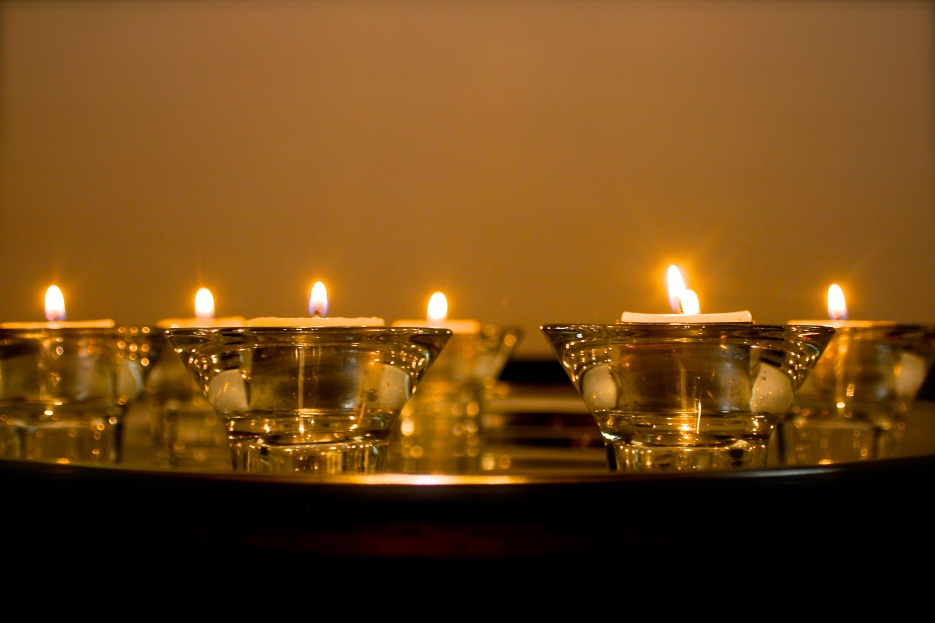 Photo: ©
Bah&aacute'í International Community
The Candle in My Family by ALHAN
My great-great-grandfather was Mullá Taghi. He was a farmer who lived at the turn of the twentieth century in Hamedan, in the western part of Iran. Mullá Taghi was well-liked by everyone because he was an unprejudiced and honest man. If someone had a fight with someone else, they would take the case to Mullá Taghi to be judged, and people accepted his judgment because they trusted him.

Nowadays in Iran, Mullá is a title given to someone who is learned in Islamic theology and sacred law, but in my grandfather's lifetime, people were called 'mullah' because they were able to read and write well. At the time, most people were illiterate. There were not many schools, and those already literate had better access to books than those who could not read. But Mullá Taghi, after working hard on his farm all day, found as many books as he could and devoted himself to reading at night. There was no electricity in rural places, so Mullá Taghi had to read by the dim light of a candle.

One day Mullá Taghi was working on his farm when a friend came and asked Mullá Taghi to stop working and come with him so they could talk. His friend said that he had heard something important, so the two men went and sat down under a big tree in the village to talk. Mullá Taghi said to his friend, "You seem very excited. Please tell me what is it all about?" His friend answered, "I have heard about a man in Tehran who claims to be the Promised One." Mullá Taghi was taken aback. But he had read about the Promised One in religious books many times, and, since he was a purehearted fellow, he decided to learn more about this claim.

It was not easy to do research in those days. Of course, there was no Google, YouTube or WhatsApp. People sometimes had to travel for months to get information. Mullá Taghi and his friend started off by asking all the people in their village about this man, but no one had heard of the Promised One. Still, Mullá Taghi could not stop thinking about this stupendous claim; it took hold of his mind day and night. Finally, someone told him and his friend to travel to another village where a Bahá'í was known to live. Mullá Taghi and his friend travelled to that village and ended up talking to the man for many hours. However, Mullá Taghi had many questions and this man could not answer them all.

Mullá Taghi and his friend returned to their village. After a couple of days, the Bahá'í they had visited sent them a letter, telling them that a man named Haji Mirza Haydar-Ali would pass through their village, and they could ask him all their questions. In his diary, Haji Mirza Haydar-Ali wrote that while he was sitting in the garden, he saw a tall man coming toward him with a sickle in his hand. Haji Mirza Haydar-Ali and my great-great-grandfather talked for many days, until all his questions were answered and he realized that this claim that the Promised One had come was indeed the truth. So it was that Mullá Taghi decided to dedicate his life to Bahá'u'lláh, as did his friend. On the way back home, the two friends sat by a river to eat lunch. Mullá Taghi's friend began to say the Muslim obligatory prayer until my great-great-grandfather threw something at him and interrupted him with his laughter. The friend was astonished at his behavior and asked, "What are you doing?" Mullá Taghi turned to look at him and said emphatically that this was a new religion and a new age and that they should not continue with the old ways. 'Abdu'l-Bahá revealed a tablet for my great-great-grandfather, and when I read it I feel overjoyed to have a candle such as Mullá Taghi in our family, illuminating and guiding the generations.
---